Motherhood Quotes to Celebrate the Most Special Woman in the Universe
November 21, 2022 8:09 AM EST
Listen to article
4 minutes
These motherhood quotes from famous poets, celebrities, and iconic historical figures are testimonies to the enduring influence of mothers on their children.
Tell us which motherhood quote you relate to the most in the comment section below.
When we opened our eyes to see the world for the first time, we had already forged a lifelong connection with our moms – a binding relationship that could only improve.
What are the benefits of reading these motherhood quotes?
If you still remember how your mom took care of you when you were little or recall how you once thought there was no one strong enough to lean on but her, these motherhood quotes are for you.
They will help you:
find the words to tell your mom how you feel
remember that you are not alone in facing the struggles of motherhood
offer loving and supporting words to other mothers you might know
We also have a compilation of mother's day quotes to show mom you care.
If you like this article, we suggest you explore our most popular quotes article, a list of short inspirational quotes for daily encouragement.
Read more related content on our inspirational quotes category page.
Motherhood quotes celebrating a special woman
1. "All I am I owe to my mother." – George Washington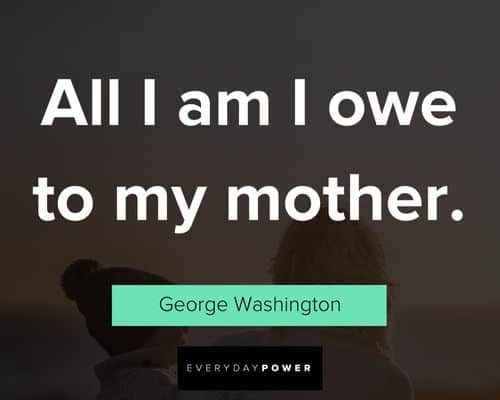 You will also enjoy our article on single mom quotes.
2. "He didn't realize that love as powerful as your mother's for you leaves its own mark." – J. K. Rowling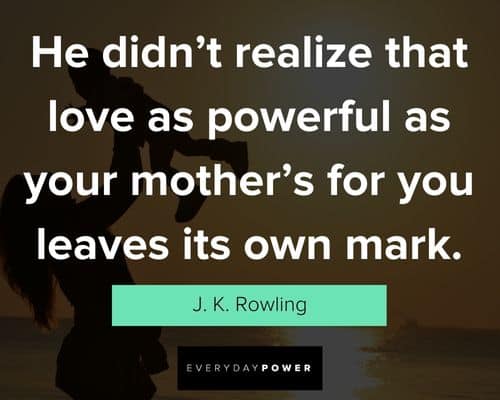 3. "I see myself as mom first. I'm so lucky to have that role in life. The world can like me, hate me or fall apart around me and at least, I wake up with my kids and I'm happy." – Angelina Jolie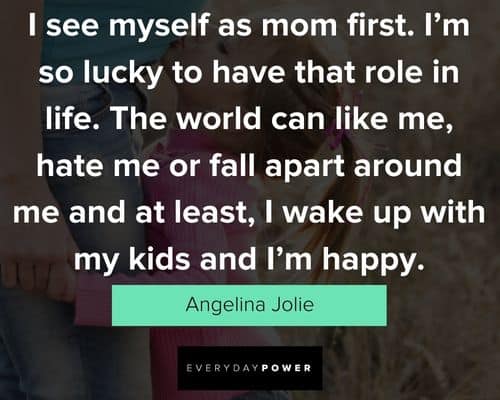 4. "The only love that I really believe in is a mother's love for her children." – Karl Lagerfeld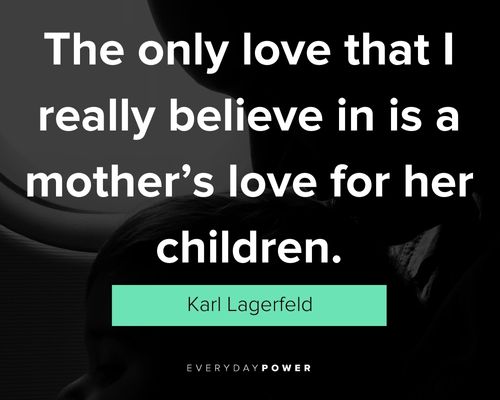 5. "A mother is a person who, seeing there are only four pieces of pie for five people, promptly announces she never did care for pie." – Tenneva Jordan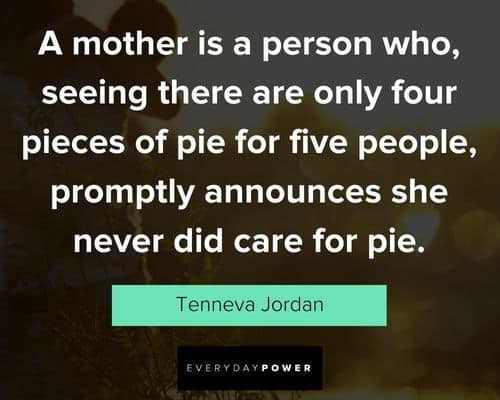 6. "A mother is not a person to lean on, but a person to make leaning unnecessary." – Dorothy Canfield Fisher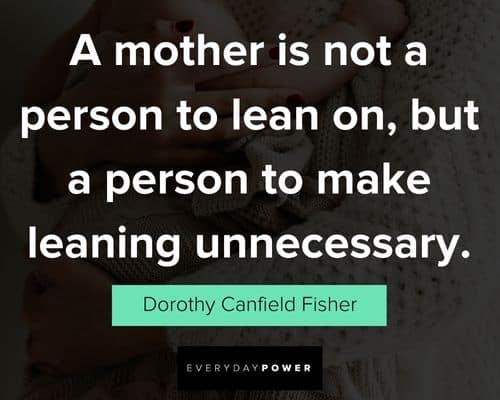 7. "A mother is one to whom you hurry when you are troubled." – Emily Dickinson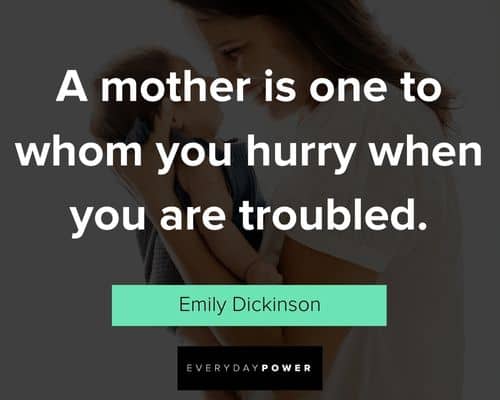 8. "A mother's arms are made of tenderness and children sleep soundly in them." – Victor Hugo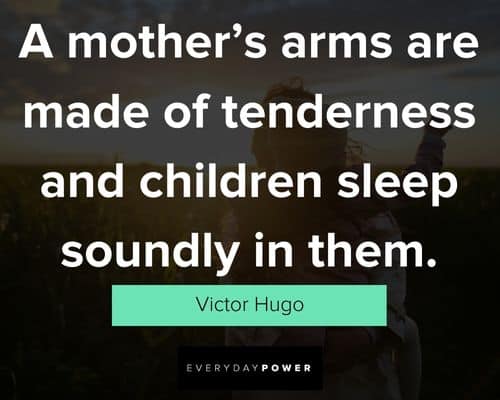 9. "A mother's love for her child is like nothing else in the world. It knows no law, no pity, it dates all things and crushes down remorselessly all that stands in its path." – Agatha Christie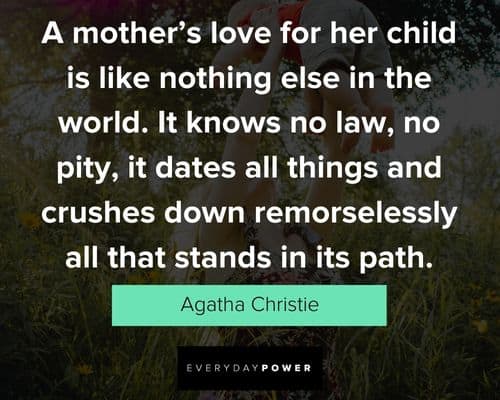 If you're enjoying these quotes, read our collection of mother-and-son quotes that put words to this unbreakable bond.
10. "Acceptance, tolerance, bravery, compassion. These are the things my mom taught me." – Lady Gaga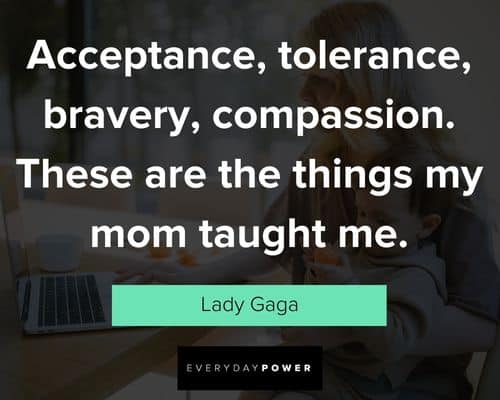 Motherhood quotes to remind you of what mothers mean to us
11. "All that I am, or ever hope to be, I owe to my angel mother." – Abraham Lincoln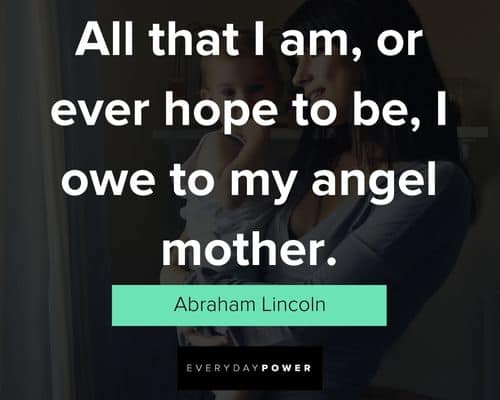 12. "At the end of the day, my most important job is still mom-in-chief." – Michelle Obama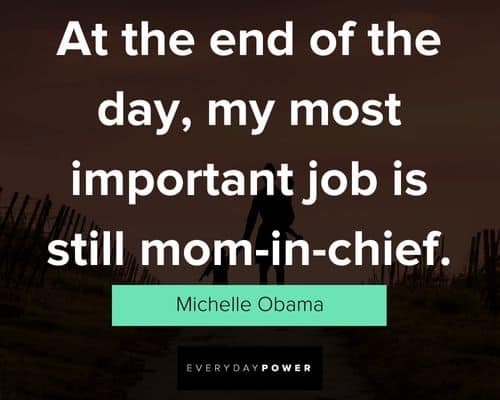 13. "Being a mom has made me so tired. And so happy." – Tina Fey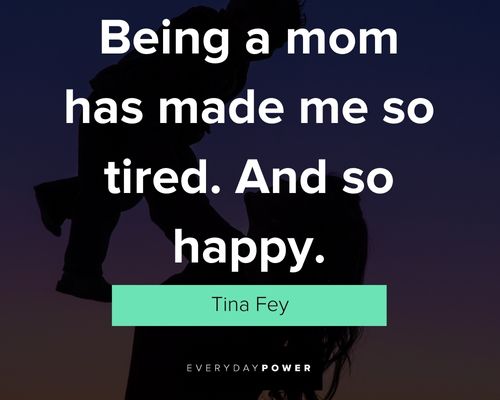 Don't forget to check out these niece quotes for every proud aunt and uncle.
14. "Being a mother is learning about strengths you didn't know you had." – Linda Wooten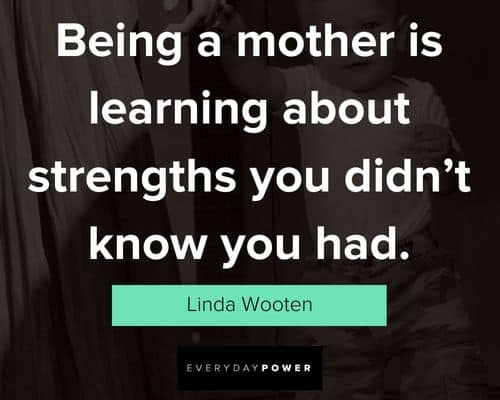 15. "God could not be everywhere. And therefore, he made mothers." – Rudyard Kipling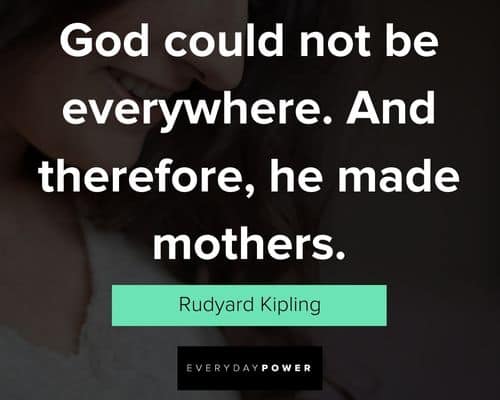 16. "Having children just puts the whole world into perspective. Everything else just disappears." – Kate Winslet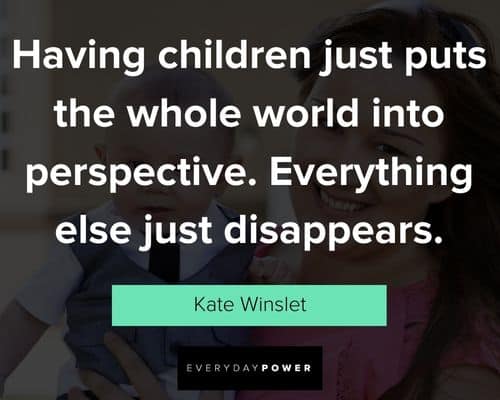 17. "Having kids -the responsibility of rearing good, kind, ethical, responsible human beings – is the biggest job anyone can embark on." – Maria Shriver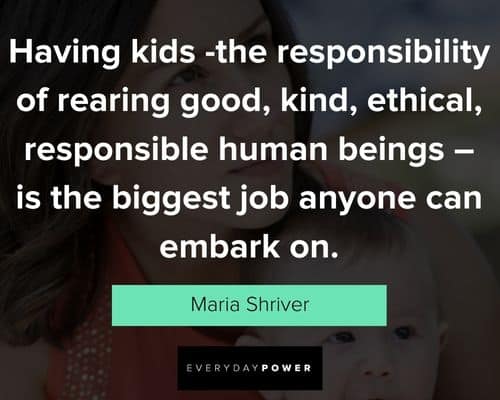 18. "I believe the choice to become a mother is the choice to become one of the greatest spiritual teachers there is." – Oprah Winfrey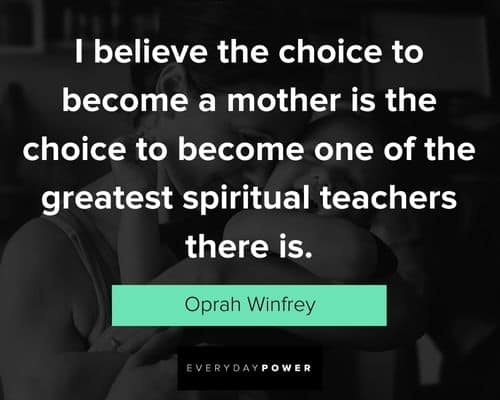 19. "I know how to do anything. I'm a mom." – Roseanne Barr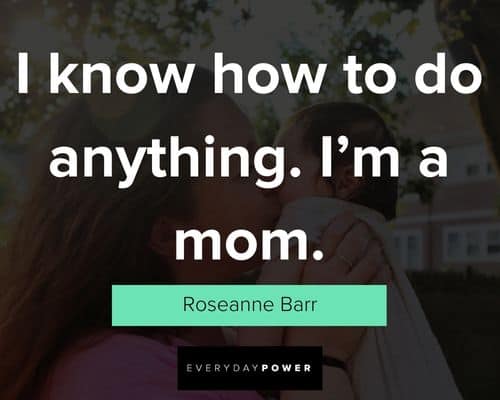 20. "I've never had more appreciation for anyone in my entire life until I became a mom." – Chrissy Teigen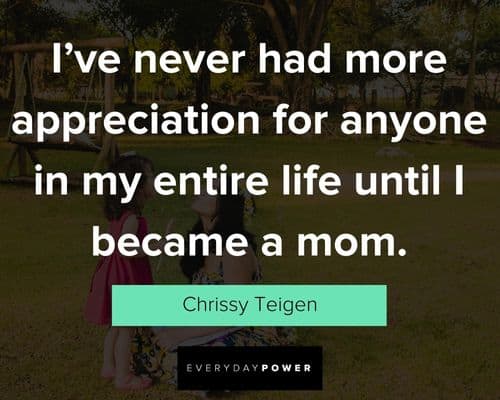 Also, check out these inspirational baby quotes that new parents can relate to.
Motherhood quotes for a special woman
21. "If love is as sweet as a flower, then my mother is that sweet flower of love." – Stevie Wonder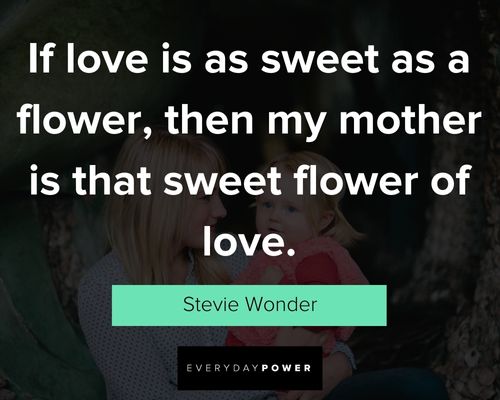 22. "If you're a mom, you're a superhero. Period." – Rosie Pope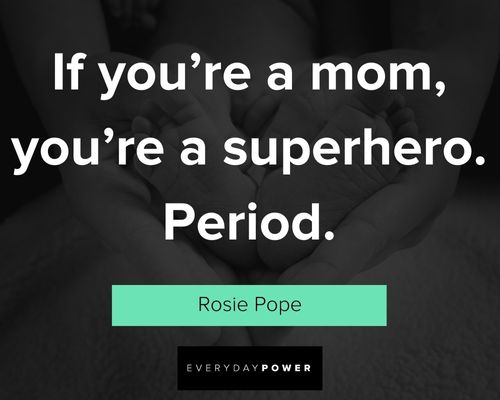 23. "In the end, mothers are always right. No one else tells the truth." – Randy Susan Meyers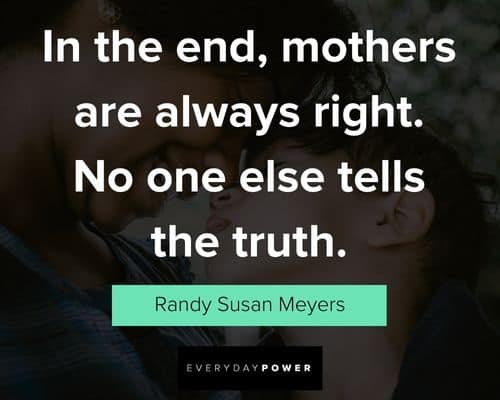 24. "It may be possible to gild pure gold, but who can make his mother more beautiful?" – Mahatma Gandhi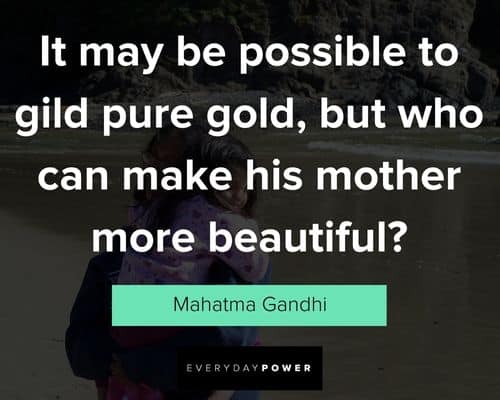 If you're enjoying these quotes, read our collection of father-daughter quotes about that unbreakable bond.
25. "It's not easy being a mother. If it were, fathers would do it." – Golden Girls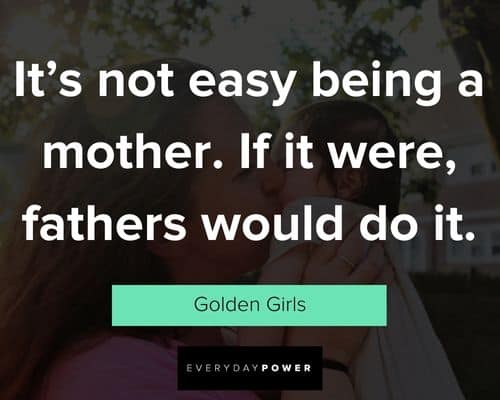 26. "A mother is the heartbeat in the home; and without her, there seems to be no heart throb." – Leroy Brownlow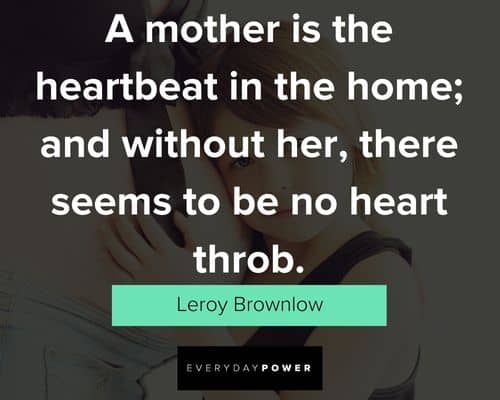 27. "Mother's love is peace. It need not be acquired, it need not be deserved." – Erich Fromm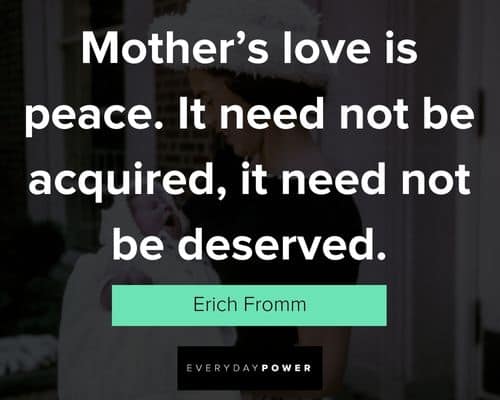 28. "Motherhood has a very humanizing effect. Everything gets reduced to essentials." – Meryl Streep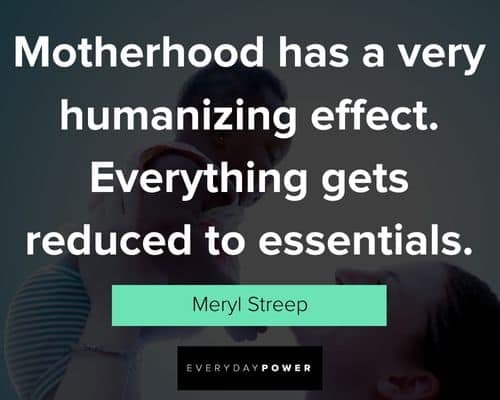 Don't forget to also check out these special granddaughter quotes that will warm your heart.
29. "Motherhood is not for the faint-hearted. Frogs, skinned knees, and the insults of teenage girls are not meant for the wimpy." – Danielle Steel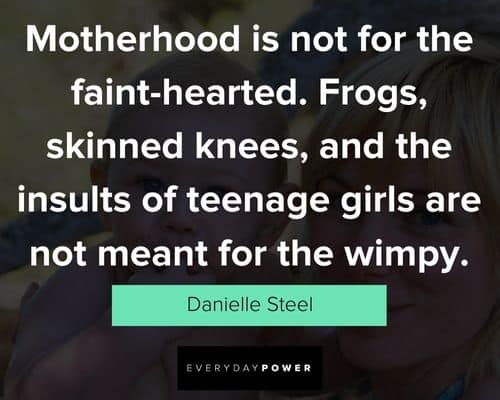 30. "Motherhood is the greatest thing and the hardest thing." – Ricki Lake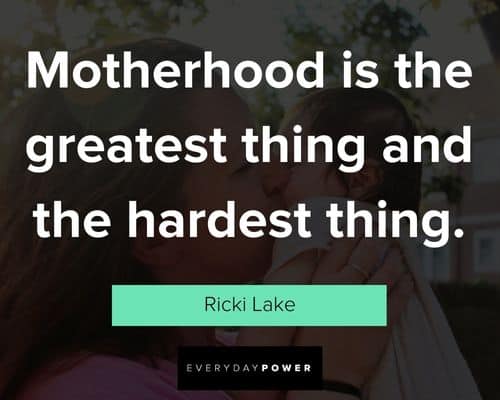 You will also enjoy our article on mother and son quotes.
Motherhood quotes to remind them of their strength and capabilities
31. "Motherhood is tough. If you just want a wonderful little creature to love, you can get a puppy." – Barbara Walters
32. "Motherhood was the great equalizer for me. I started to identify with everybody." – Annie Lennox
33. "Mothers can look through a child's eyes and see tomorrow." – Reed Markham
If you're enjoying these quotes, make sure to check out our collection of Mother's Day quotes that help us celebrate moms all around the world.
34. "My mom had four kids, one with special needs. She had a full-time job, and she still came home and made dinner for us every night, from scratch. It was amazing." – Eva Longoria
35. "My mother is a walking miracle." – Leonardo DiCaprio
36. "My mother is my root, my foundation. She planted the seed that I base my life on, and that is the belief that the ability to achieve starts in your mind." – Michael Jordan
37. "Of all the rights of women, the greatest is to be a mother." – Lin Yutang
38. "She raised us with humor, and she raised us to understand that not everything was going to be great but how to laugh through it." – Liza Minnelli
39. "The fastest way to break the cycle of perfectionism and become a fearless mother is to give up the idea of doing it perfectly – indeed to embrace uncertainty and imperfection." – Arianna Huffington
40. "The natural state of motherhood is unselfishness. When you become a mother, you are no longer the center of your own universe. You relinquish that position to your children." – Jessica Lange
If you're enjoying these quotes, read our collection of inspirational quotes for women on strength and leadership.
Motherhood quotes to show love, support, and appreciation
41. "The phrase 'working mother' is redundant." – Jane Sellman
42. "There is no way to be a perfect mother, but a million ways to be a good one." – Jill Churchill
43. "There is nothing in the world of art like the songs Mother used to sing." – Billy Sunday
44. "To describe my mother would be to write about a hurricane in its perfect power. Or the climbing, falling colors of a rainbow." – Maya Angelou
45. "We are born of love. Love is our mother." – Rumi
Be sure to also check out these queen quotes celebrating the women in your life.
46. "We have a secret in our culture and it's not that birth is painful. It's that women are strong." – Laura Stavoe Harm
47. "When you are a mother, you are never really alone in your thoughts. A mother always has to think twice, once for herself and once for her child." – Sophia Loren
48. "Youth fades; love droops; the leaves of friendship fall; A mother's secret hope outlives them all." – Oliver Wendell Holmes
49. "A mother's arms are more comforting than anyone else's." – Princess Diana
50. "There is no velvet so soft as a mother's lap, no rose as lovely as her smile, no path so flowery as that imprinted with her footsteps." – Archibald Thompson
You might also like these co-parenting quotes to inspire separated parents.
More motherhood quotes and sayings
51. "Mothers are all slightly insane." – J. D. Salinger
52. "My mom smiled at me. Her smile kind of hugged me." – R.J. Palacio
53. "Motherhood is near to divinity. It is the highest, holiest service to be assumed by mankind." – Howard W. Hunter
54. "Sometimes the strength of motherhood is greater than natural laws." – Barbara Kingsolver
55. "Thus far the mighty mystery of motherhood is this: How is it that doing it all feels like nothing is ever getting done." – Rebecca Woolf
If you're enjoying this article, you'll also love these mother daughter quotes expressing unconditional love
56. "There is no greater good in all the world than motherhood. The influence of a mother in the lives of her children is beyond calculation." – James E. Faust
57. "A mother only does her children harm if she makes them the only concern of her life." – W. Somerset Maugham
58. "Mothers are the only race of people that speak the same tongue." – Will Rogers
59. "There is no greater warrior than a mother protecting her child." – N.K. Jemisin
60. "She has watched every moment of your life, almost, and she loves you as God does, to the marrow of your bones." – Marilynne Robinson
Motherhood Quotes To Celebrate Mother`s Love
61. "Whatever else is unsure in this stinking dunghill of a world, a mother's love is not." — James Joyce
62. "The wisdom and compassion a woman can intuitively experience in childbirth can make her a source of healing and understanding for other women." — Stephen Gaskin
63. "I realized when you look at your mother, you are looking at the purest love you will ever know." — Mitch Albom
64. "Motherhood: All love begins and ends there." — Robert Browning
65. "Motherhood is the biggest gamble in the world. It is the glorious life force. It's huge and scary—it's an act of infinite optimism." — Gilda Radner
66. "Men are what their mothers made them." — Ralph Waldo Emerson
67. "There is nothing as sincere as a mother's kiss." — Saleem Sharma
68. "A mother is she who can take the place of all others but whose place no one else can take." — Cardinal Mermillod
69. "A mother's love is the fuel that enables a normal human being to do the impossible" — Marion C. Garretty.
70. "I love my mother as trees love water and sunshine. She helps me grow, prosper, and reach great heights." —Terry Guillemets
Don't forget to check out our collection of parents' quotes about family and support.
Inspiring Motherhood Quotes
71. "I can imagine no heroism greater than motherhood." — Lance Conrad
72. "Only mothers can think of the future because they give birth to it in their children." — Maxim Gorky
73. "I remember my mother's prayers and they have always followed me. They have clung to me all my life." — Abraham Lincoln
74. "The best place to cry is on a mother's arms." — Jodi Picoult
75. "My mother was my Role Model before I even knew what that word was." — Lisa Leslie
76. "A mother's love endures through all." — Washington Irving
77. "For when a child is born the mother also is born again." — Gilbert Parker
78. "No matter how old a mother is, she watches her middle-aged children for signs of improvement." — Florida Scott-Maxwell
79. "One good mother is worth a hundred schoolmasters." — George Herbert
80. "There was never a child so lovely but his mother was glad to get him to sleep." — Ralph Waldo Emerson
Motherhood Quotes About The Amazing Transition
81. "Motherhood isn't a typical love story, it's the raw unedited version with all the outtakes, which is what makes it the most beautiful love story of all." ― Jessica Urlichs
82. "I'm beginning to perceive motherhood as a long, slow letting go, of which birth is just the first step." ― Sandra Steingraber
83. "The life of a mother is the life of a child: you are two blossoms on a single branch." ― Karen Maezen Miller
84. "A mother is always patient. A mother is always kind. A mother is always giving. A mother never falls apart. A mother is the buffer between her child and the cruel world." ― Jessamine Chan
85. "But becoming a mother alters every ince of your body, your routine, your soul, your heart." ― Jessi Klein
86. "Motherhood is priced Of God, at price no man may dare To lessen or misunderstand." ― Helen Hunt Jackson
87. "Could it be true that one has to experience in order to understand? I have always denied this idea, and yet of motherhood, for me at least, it seems to be the case." ― Rachel Cusk
88. "While motherhood has been one of her greatest joys, she also wants to let the world in on how challenging it can be to juggle everything on her plate." ― Serena Williams
89. "Babies are the sunlight that help to bloom an incredibly beautiful flower called Mother." ― Debasish Mridha
90. "It is a truism that motherhood makes many women feminist." ― Darcy Lockman
Which of these motherhood quotes resonated with you best?
They say it's difficult to understand your mother until you have become a parent yourself and assumed the responsibility of molding your own children to be the best versions of themselves, just like your own mother has molded you to be who you are now.
These motherhood quotes reflect what our mothers went through to bring us into this world and help shape our destinies.
These motherhood quotes are meant to remind us of the pains she had to endure, the sacrifices she had to make, and the unconditional love she had to give.
Along with the joys she reaped for embracing her roles as a caregiver, teacher, provider, disciplinarian, cheerleader, counselor, consultant, peacemaker, and many, many more.
May we celebrate our mothers not just once or twice a year but every day.
She deserves it.
Which of these motherhood quotes and sayings is your favorite?
Do you have any other favorite quotes to add?
Let us know in the comment section below.
Don't forget to share this article with all your mom friends on social media!