Dennis Rodman Quotes About Basketball, Michael Jordan, and More
February 24, 2021 6:00 AM EST
Listen to article
4 minutes
These Dennis Rodman quotes will help you learn more about his career and life.
A 5x NBA champion and Naismith Memorial Basketball Hall of Famer, Dennis Rodman is one of the most distinguished basketball players in recent history.
But his controversial life off the court gathered just as much attention as his rebounding skills.
Are you a fan of Dennis Rodman?
After Rodman became a three-time NAIA All-American during his collegiate basketball career, he made himself eligible for the 1986 NBA draft.
That same year, he was drafted by the Detroit Pistons.
During his twenty-year basketball career, he played for many teams including the San Antonio Spurs, the Los Angeles Lakers, and the Dallas Mavericks.
But, Rodman is most known for his stint with the Chicago Bulls, where he played alongside Michael Jordan and Scottie Pippen.
With the Bulls, he won three NBA championships and solidified his legacy as a defensive master.
Learn more about Dennis Rodman's life and career through the quotes below.
Check out our most popular quote article, a list of short inspirational quotes for daily inspiration.
Check out our inspirational quotes category page for more inspirational life quotes.
Dennis Rodman quotes about basketball
1. "Basketball is simple. It's a simple game. But when you leave this confined zone, it's hard." – Dennis Rodman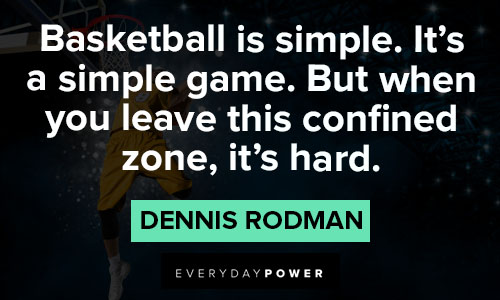 2. "I can't begin to describe the amount of crap I've taken for being a lousy free-throw shooter." – Dennis Rodman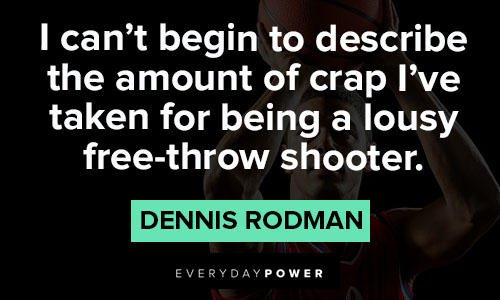 3. "I'd just sit there and react, react. I just practiced a lot about the angle of the ball and the trajectory of it." – Dennis Rodman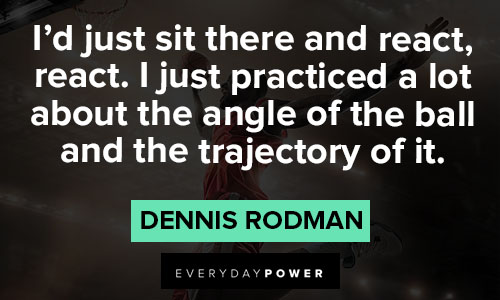 You will also enjoy our article on basketball quotes.
4. "I don't fit into the mold of the NBA man, and I think I've been punished financially for it." – Dennis Rodman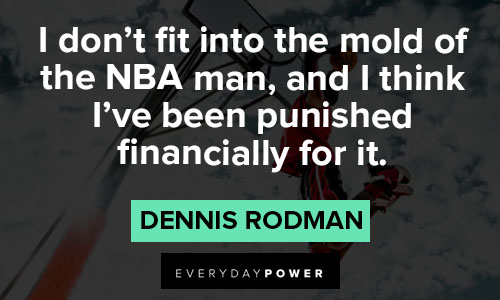 5. "I spent money, I slept with women around the league, but I always kept my mind on the game." – Dennis Rodman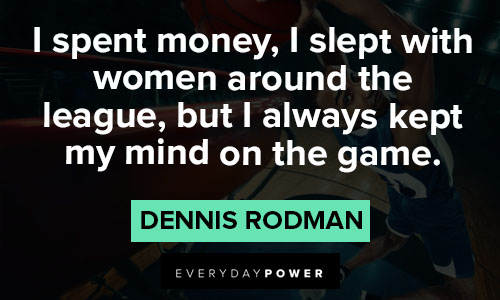 6. "I'm hungrier than those other guys out there. Every rebound is a personal challenge." – Dennis Rodman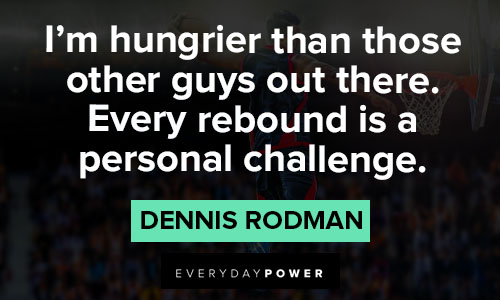 7. "The NBA believes if you play for a team and get paid by a team, you're the property of that team for 24 hours a day." – Dennis Rodman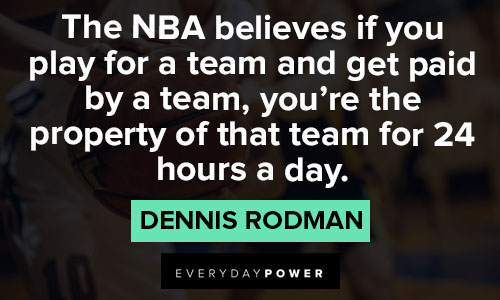 8. "Wherever there's money, there's drugs, so to say drugs don't exist in the NBA would be stupid." – Dennis Rodman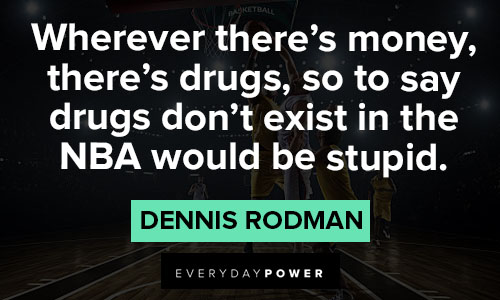 Dennis Rodman quotes about being a professional athlete
9. "I think marriage and athletes is a bad combination." – Dennis Rodman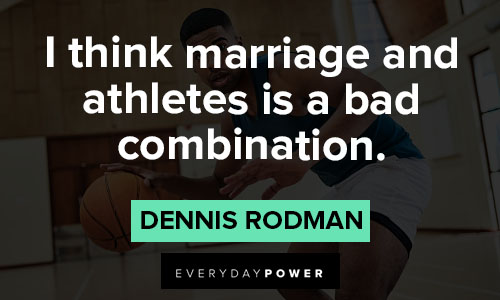 10. "The doors fly open when you're a professional athlete." – Dennis Rodman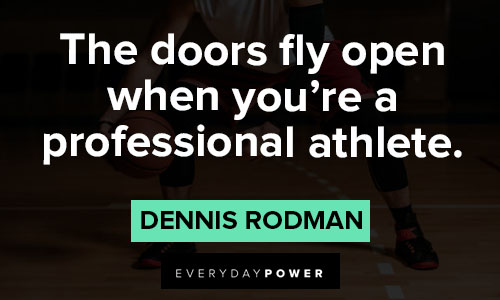 11. "There is so much hypocrisy in sports." – Dennis Rodman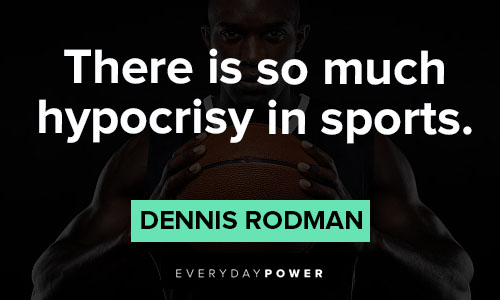 12. "I'm starting to see players copy what I do. I'm flattered." – Dennis Rodman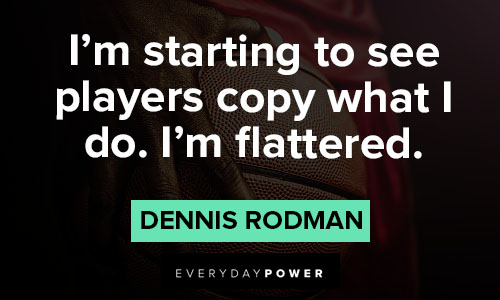 13. "They didn't have a problem with me being wild and crazy when it came time to fill the arenas." – Dennis Rodman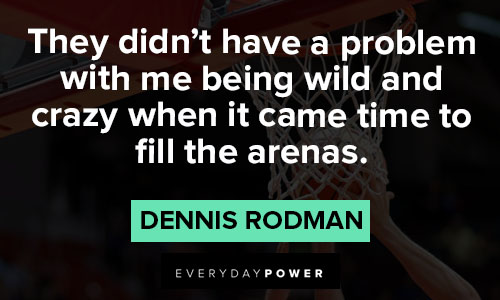 Dennis Rodman quotes about other basketball players
14. "You got the great Michael Jordan, the great Scottie Pippen, the great Phil Jackson. But if you take me away from this team, do they still win a championship? I don't think so. I love Michael Jordan to death. I love Scottie Pippen, all these guys. But they really don't do the things that I do." -Dennis Rodman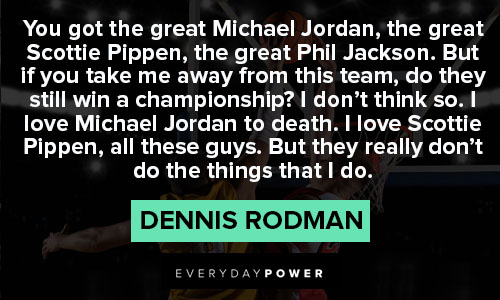 15. "I want to do for rebounds what Michael Jordan did for dunks." – Dennis Rodman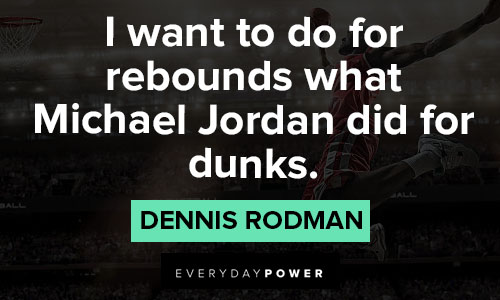 16. "I've got to give Larry Bird his due; he was a great player. He knew the game and he was smart." – Dennis Rodman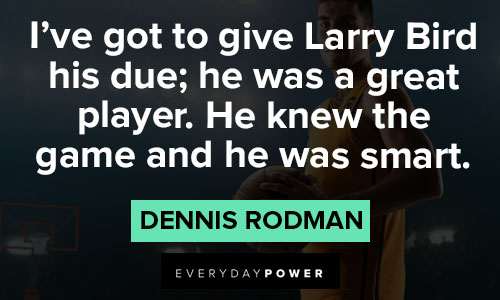 17. "Karl Malone's too high-class for a bum like me." – Dennis Rodman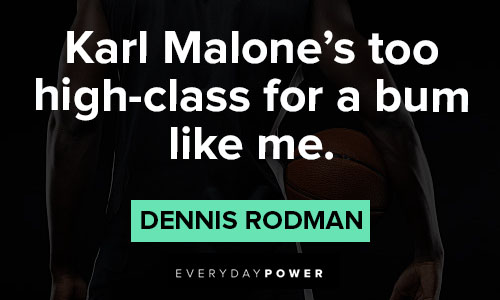 18. "The people at the top of the league think they need to rein me in so I don't become another Michael Jordan, somebody they aren't able to mold and shape and make their puppet." – Dennis Rodman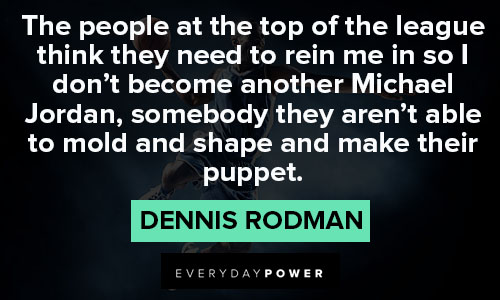 Dennis Rodman quotes about life
19. "I wanna go out there and get my nose broke. I wanna go out there and get cut. Something that's just going to bring out the hurt. The pain. I want to feel that." – Dennis Rodman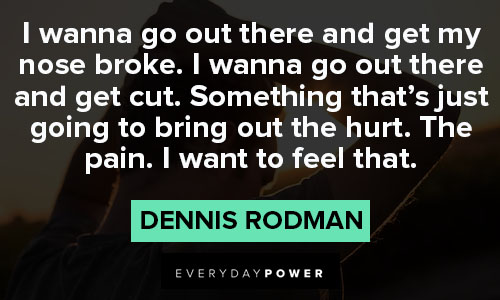 20. "Like I said, I ain't gotta prove anything to the people in this country. This business can kiss my ass." – Dennis Rodman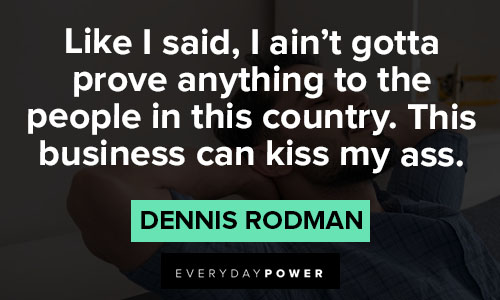 21. "I don't trust what this life has given me." – Dennis Rodman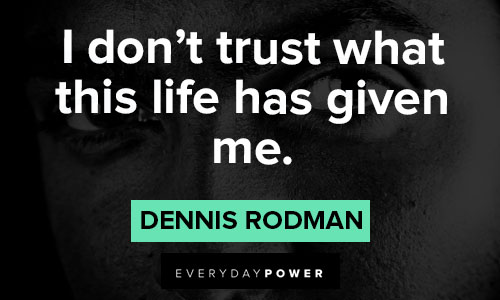 22. "I lost $35,000 in less than a week at the Mirage in Las Vegas." – Dennis Rodman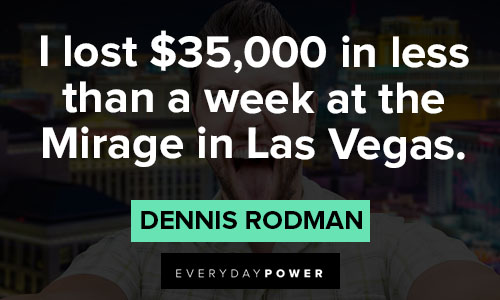 23. "Everybody's talking trash these days, so why not keep quiet?" – Dennis Rodman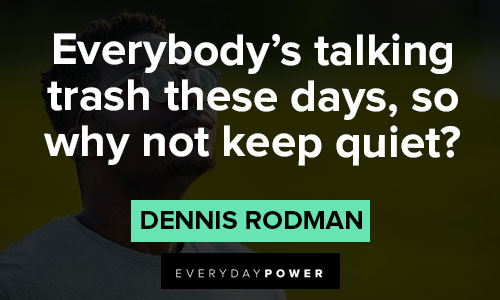 24. "I could have been a bomb. I could have been in jail. I could have been dead. But I worked my ass off to get here." – Dennis Rodman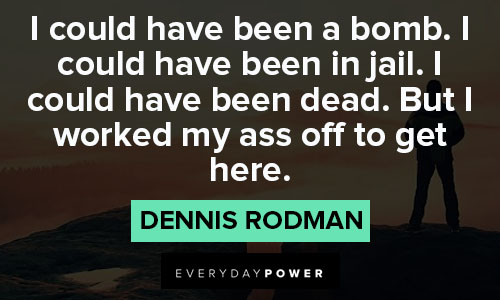 25. "You can love me or you can hate me." – Dennis Rodman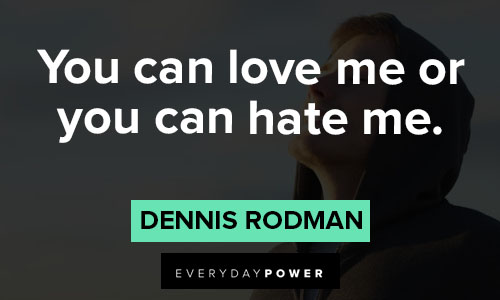 26. "If you have a problem with my answer that's your problem, not my problem." – Dennis Rodman
Dennis Rodman quotes about his public image
27. "I'll be the judge of my own manliness. – Dennis Rodman
28. "If I want to wear a dress, I'll wear a dress." – Dennis Rodman
29. "To hang out in a gay bar or put on a sequined halter top makes me feel like a total person." – Dennis Rodman
30. "There's one thing everyone should understand: I like my character." – Dennis Rodman
31. "This life is like a swimming pool. You dive into the water, but you can't see how deep it is." – Dennis Rodman
What do people criticize you about?
From his piercings to his wardrobe, the life of Dennis Rodman has always been up for public scrutiny.
But, Rodman didn't let public opinion get in the way of his goals and aspirations as an athlete.
He knew exactly the kind of person he wanted to be.
As a result, he wasn't going to be someone he wasn't just to appease people.
Don't let the negative opinions of others mess with your head.
Many people take offense to those who are living in their truth because they haven't allowed themselves the luxury of doing the same thing.
Which of these Dennis Rodman quotes and sayings is your favorite?
What's the next athlete we should feature on Everyday Power?
Tell us your thoughts below!