Heartfelt Missing Mom Quotes to Celebrate Your Mother
September 24, 2022 8:00 AM EST
Listen to article
4 minutes
Missing mom quotes are a perfect way to show how much you love your mother.
A mother's love for her children is unconditional. Similarly, her level of enthusiasm and dedication is simply incomparable.
She encourages her kids to embrace every challenge in their life.
Also, she supports her children in any way that is possible for her.
This is why she always deserves special attention.
To make her feel good, it is essential to express your feeling and affection.
These missing mom quotes can help you appreciate your mom or remember her if she is already gone from your life.
What to Do When You Miss Your Mom
If you have lost your mother, you can overcome the gravity of your sadness by paying her a tribute.
Besides, there are certain things you can do when you are missing your mom. A few of them are listed here:
Turn a Photo of Your Mother into an Art – Take a photo of your mother and create some form of art. This will give a new look to the photo and add more value to it.
Do Something that your Mother Loved to Do – Spend time doing things that your mother loved to do when she was alive.
Write Down Your Memories – When missing your mom, try writing down the memories associated with your mom. By doing so, you can memorize the best moments that you had spent with her.
Donate on the Behalf of your Mom – You can send donations to charity organizations on behalf of your mother.
Check out our most popular quote article, a list of short inspirational quotes for daily inspiration.
If you enjoy this collection, check out our inspirational quotes category page.
Top 10 Missing Mom Quotes
Check out these 10 amazing quotes about missing your mom. Which of the quotes do you relate to the most?
1. "All that I am, or hope to be, I owe to my angel mother." – Abraham Lincoln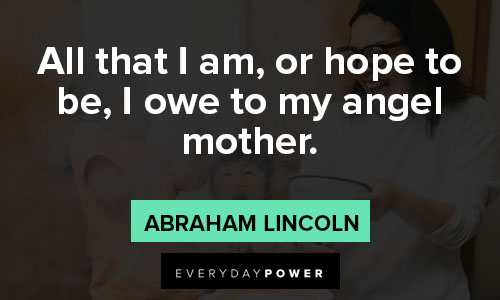 You will also enjoy our article on missing someone quotes.
2. "You were my home, Mother. I had no home but you." – Janet Fitch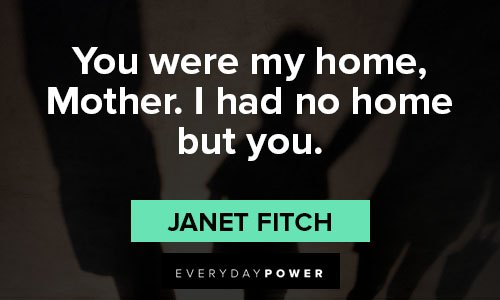 You will also enjoy our article on mother and son quotes.
3. "The best place to cry is in a mother's arms." – Jodi Picoult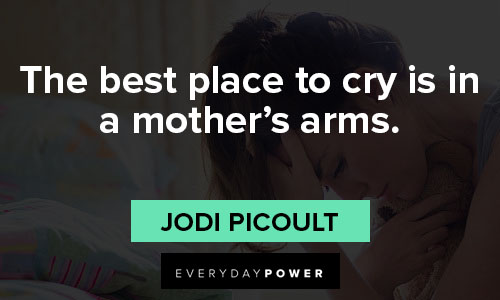 4. "I miss thee, my Mother! Thy image is still, The deepest impressed on my heart." – Eliza Cook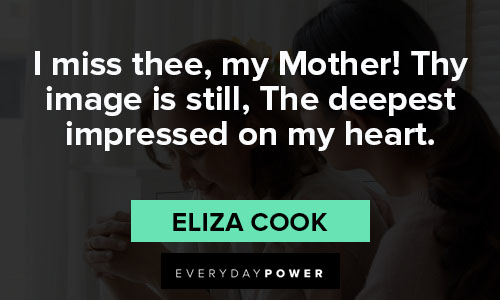 You will also enjoy our article on mother daughter quotes.
5. "Everybody wants to save the Earth; nobody wants to help Mom do the dishes." – P.J. O'Rourke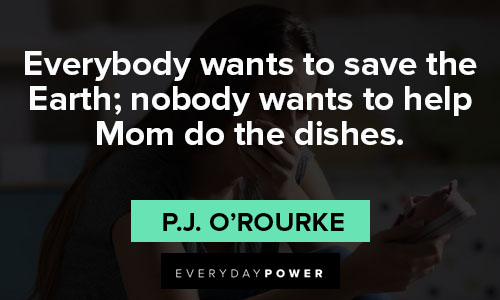 6. "Her absence is like the sky, spread over everything." – C.S Lewis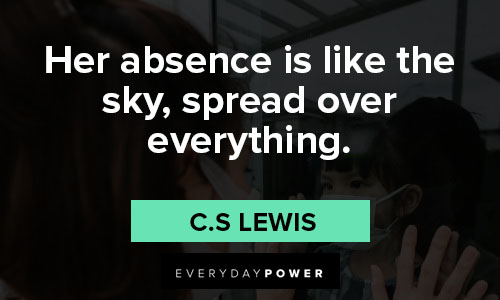 7. "Mother is the name for God in the lips and hearts of little children." – William Makepeace Thackeray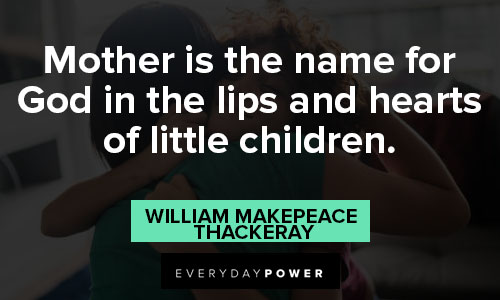 8. "Let me talk to my mother. She is listening from the above." – Debasish Mridha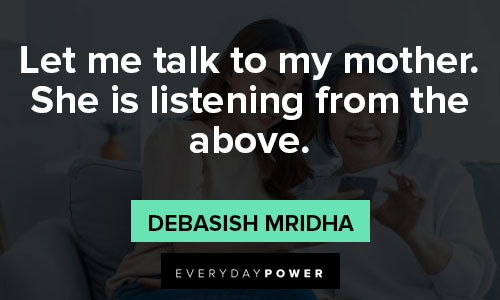 9. "It's so much darker when a light goes out than it would have been if it had never shone." – John Steinbeck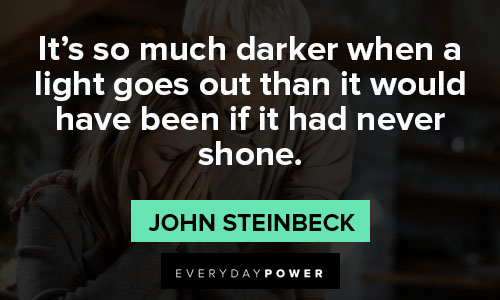 10. "Anyone who doesn't miss the past never had a mother" – Gregory Nunn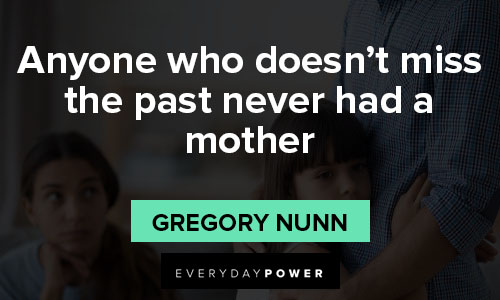 Missing Mom Quotes to Show How Much You Miss Her
This next set of quotes does a great job of expressing how much you miss your mom. You can tell the impact a mom has by reading the quotes below.
11. "A society without mothers would not only be a cold society, but a society that has lost its heart, lost the feel of home." – Pope Francis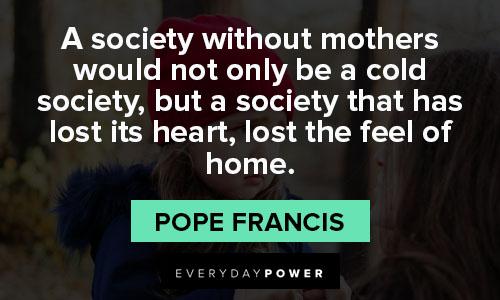 12. "And of course, as a son I would say this, she was the best mum in the world. She smothered us with love, that's for sure." – Prince Harry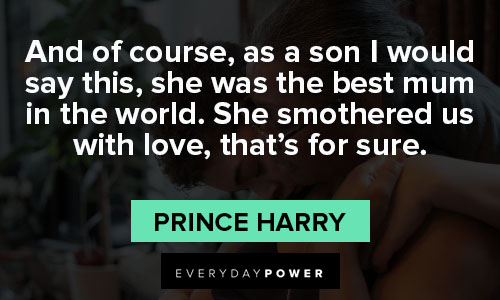 13. "Losing people you love affects you. It is buried inside of you and becomes this big, deep hole of ache. It doesn't magically go away, even when you stop officially mourning." – Carrie Jones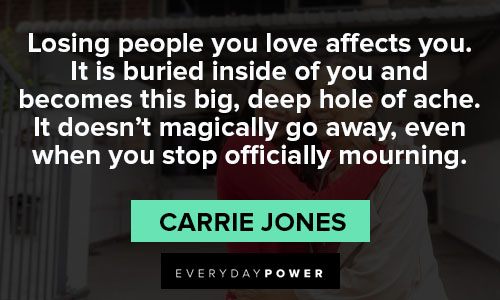 14. "I remember my mother's prayers and they have always followed me. They have clung to me all my life" – Abraham Lincoln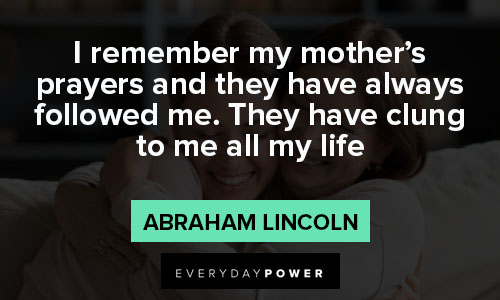 15. "Where you used to be, there is a hole in the world, which I find myself constantly walking around in the daytime, and falling in at night. I miss you like hell." – Edna ST. Vincent Millay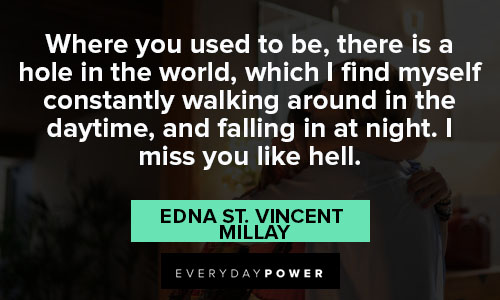 16. "Sometimes, only one person is missing, and the whole world seems depopulated." – Alphonse De Lamartine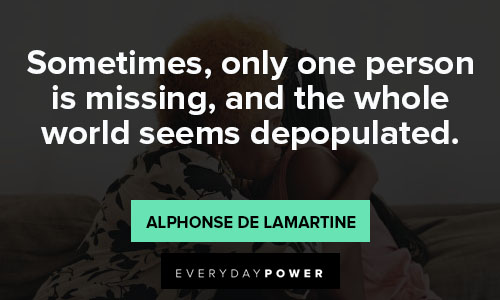 17. "Grief can be a burden, but also an anchor. You get used to the weight, how it holds you in place." – Sarah Dessen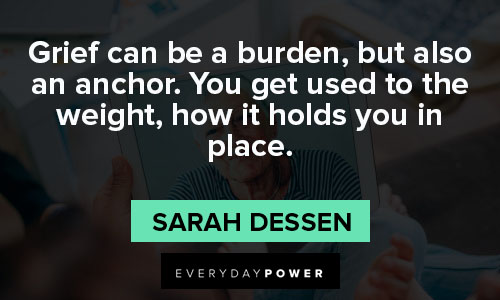 18. "Your absence has gone through me like thread through a needle. Everything I do is stitched with its color." – W.S Merwin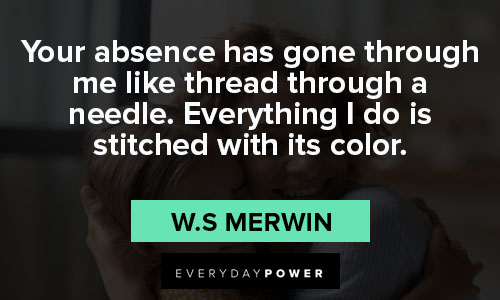 19. "Whenever I am missing you, I also remember how fortunate I was that you were in my life. I wouldn't trade those moments for the world" – Cindy Adkins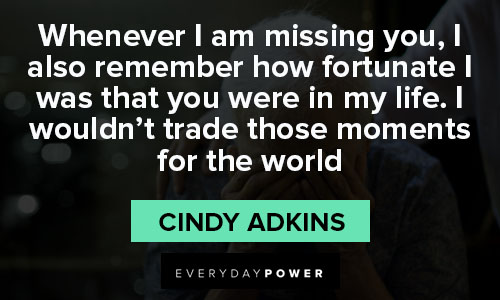 20. "I miss saying 'Mom' out loud. I miss not being able to find that special card for you and then having found it, writing 'To Mom' on it for yet another cherished Mother's Day." – Millie P. Lorenz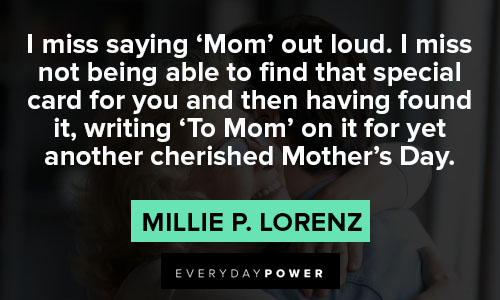 Heart Touching Missing Mom Quotes
These next quotes will really touch your heart. Take a look below at the heartfelt feelings in these quotes.
21. "Love as powerful as your mother's for you leaves its own mark. To have been loved so deeply, even though the person who loved us is gone, will give us some protection forever." – J.K. Rowling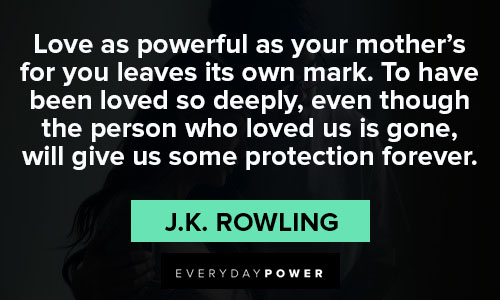 22. "My mother is a never ending song in my heart of comfort, happiness and being. I may sometimes forget the words but I always remember the tune." – Graycie Harmon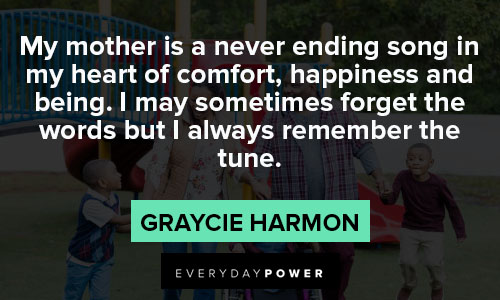 23. "I cannot forget my mother. She is my bridge. When I needed to get across, she steadied herself long enough for me to run across safely." – Renita Weems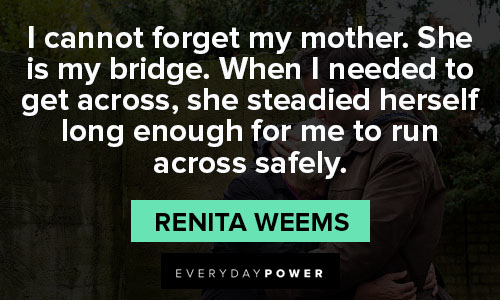 24. "There is no death, daughter. People only die when we forget them," my mother explained shortly before she left me. "If you can remember me, I will be with you always." – Isabel Allende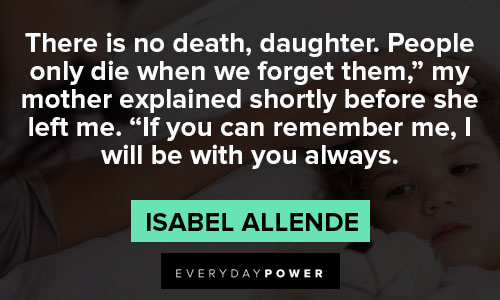 25. "A mother's love's a blessing, no matter where you roam. Keep her while she's living, you'll miss her when she's gone." – Thomas P. Keenan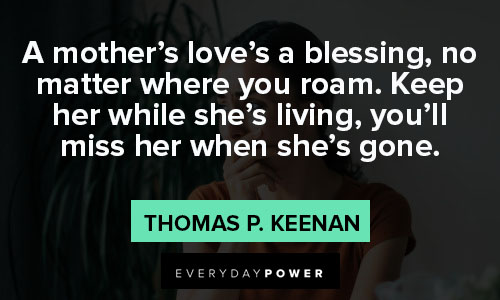 26. "Mothers never really die, they just keep the house up in the sky. They polish the sun by day and light the stars that shine at night, keep the moonbeams silvery bright and in the heavenly home above they wait to welcome those they love" – Helen Steiner Rice
27. "No matter how prepared you think you are for the death of a loved one, it still comes as a shock, and it still hurts very deeply" – Billy Graham
28. "But she wasn't around, and that's the thing when your parents die, you feel like instead of going in to every fight with backup, you are going into every fight alone" – Mitch Albom
29. "If I had a flower for every time I thought of you… I could walk in my own garden forever" – Alfred Tennyson
30. "I should know enough about loss to realize that you never really stop missing someone, you just learn to live around the huge gaping hole of their absence." – Alyson Noel
Missing Mom Quotes that are Truly Inspiring
These quotes about missing your mom are very inspiring. Moms are so important and have such a powerful impact as shown by the quotes below.
31. "The mother memories that are closest to my heart are the small gentle ones that I have carried over from the days of my childhood. They are not profound, but they have stayed with me through life, and when I am very old, they will still be near." – Margaret Sanger
32. "My mother was the one constant in my life. When I think about my mom raising me alone when she was 20, and working and paying the bills, and, you know, trying to pursue your own dreams, I think is a feat that is unmatched." – Barack Obama
33. "I don't think of myself as a terribly confident person. But I have a survival mechanism that was instilled in me by my mother." – Naomi Watts
34. "There is something about losing a mother that is permanent and inexpressible – a wound that will never quite heal." – Susan Wiggs
35. "Mom, I am missing you today but I know that you will always be with me in my heart." – Karen Kostyla
36. "Tears shed for another person are not a sign of weakness. They are a sign of a pure heart." – José N. Harris
37. "But there's a story behind everything. But behind all your stories is always your mother's story, because hers is where yours begin." – Mitch Albom
38. "We understand death only after it has placed its hands on someone we love." – Madame de Stael
39. "I miss having you share the feelings that linger deep within my soul; there is emptiness there where you once were. I miss you saying 'this is my daughter' and the look of pride you held with each word spoken." – Millie P. Lorenz
40. "Who ran to help me when I fell, and would some pretty story tell, or kiss the place to make it well?" – Ann Taylor
Missing Mom Quotes for Every Daughter and Son
We all have moms and these next quotes highlight that fact. Check out the quotes below and see if you can relate to them.
41. "No daughter and mother ever live apart, no matter what the distance is between them." – Christie Watson
42. "Hold dear to your parents for it is a scary and confusing world without them." – Emily Dickinson
43. "If the people we love are stolen from us, the way to have them live on is to never stop loving them." – James O'Barr
44. "My room has enough frames with your pictures, but my heart still remains empty without your hugs. I miss you." – Unknown
45. "Mourning was just another word in the dictionary. But after your death, it has become a way of life for me. I miss you, mom." – Unknown
46. "The death of a mother is the first sorrow wept without her." – Unknown
47. "The world classifies you as dead but my heart classifies you as immortal. I miss you, mom." – Unknown
48. "Home is not home without mom. Miss you mom." – Unknown
49. "I truly never learned what the words "I miss you" were until I reached for my mom's hand and it wasn't there." – Unknown
50. "Now I know why everyone calls Heaven so beautiful – because it has my mother. I miss you." – Unknown
Which One is Your Favorite Missing Mom Quotes?
The grief of losing your mother is inexpressible.
However, missing mom quotes can help you express your sorrow to some extent.
By sharing these quotes, you can pay her the respect and love that she deserves.
You can use these quotes on special occasions like mother's day, birthday, or Christmas.
Which of these missing mom quotes do you like the most?
Share with your friends and post any comments below.
We would love to hear from you.