Kamala Harris Quotes on Running for President
September 14, 2020 6:11 AM EST
Listen to article
4 minutes
This Kamala Harris quotes collection will inspire and galvanize you.
Kamala Devi Harris is the trailblazing California senator who recently announced – on Martin Luther King Jr. Day – her bid to run for the US Presidency in the 2020 election.
A member of the Democratic Party, Harris will be the first African-American or Indian-American woman to be a major party nominee for the presidency if she secures her party's nomination bid.
Harris is no stranger to making waves and breaking barriers.
Before becoming California's third female U.S. Senator, she was both the first woman and the first person of colour to hold the position of Attorney General in California.
Born in Oakland, California, Harris graduated from Howard University in Washington and attended the University of California's Hastings College of Law.
Her first job after graduating was as a deputy district attorney, before being elected District Attorney of San Francisco later in 2004.
Since her election, Harris has made her presence known and felt.
Regardless of your politics, it's hard to argue with her ability to inspire people.
In that respect, below is our round up of inspirational, wise, and impactful Kamala Harris quotes.
If you enjoy this article, check out our most popular quote article, a list of short inspirational quotes for daily motivation.
Browse our entire collection of inspirational quotes for more motivating ideas and concepts.
Kamala Harris Quotes on Running for President in 2020
1. "You have to see and smell and feel the circumstances of people to really understand them." – Kamala Harris
2. "Surround yourself with really good friends. Have people around you who cheer you on, and applaud you, and support you, and are honest with you, and tell you, you know, when your breath stinks." – Kamala Harris
3. "I was raised in a way that one does not talk about themselves or their feelings. One is expected to do good work, but it's not about you, it's not about your feelings. It's about the thing that needs to get done." – Kamala Harris
4. "I've been a proud mentor to many women seeking public office, because I believe we need more women at all levels of government. Women have an equal stake in our future and should have an equal voice in our politics. These are challenging times, but I believe getting more women to run for office is a big part of the solution." – Kamala Harris
5. "The core of my campaign is the people." – Kamala Harris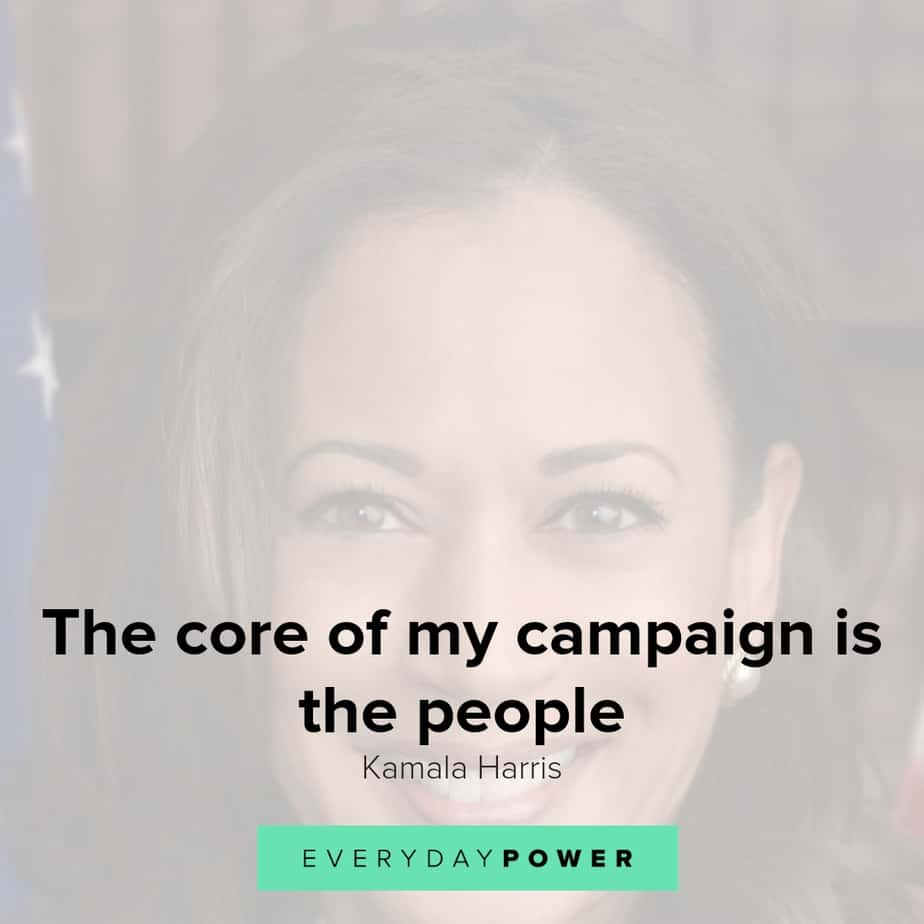 6. "[My work is] so much a part of me. I think about my job all the time, not in a way that is burdensome but in a way that asks, 'How can I do good?' I'm also blessed to do work that I really enjoy doing." – Kamala Harris
7. "Running for office is similar to being a trial lawyer in a very long trial. It requires adrenaline and stamina; it requires being in shape mentally and emotionally. It's a marathon." – Kamala Harris
8. "We need to work to ensure the leaders reflect the people they are supposed to represent, and until we achieve that full representation, I think we should understand we are falling short of the ideals of this country." – Kamala Harris

9. "Nobody is living their life through the lens of one issue. And I think what people want is leadership that sees them through the complexity of their lives and pays equal attention to their needs. Let's not put people in a box." – Kamala Harris
10. "I'll be judged on the body of work and not the popularity of any one decision." – Kamala Harris
Also read these quotes from John McCain about character, America and more.

Thought-provoking and galvanizing Kamala Harris quotes
11. "If anyone ever gets in your way and tells you to not follow your dreams — be it because of your age, gender, what you look like or where you come from — don't listen. Do not be burdened by what has been when you can create what should be." – Kamala Harris
12. "Don't give up – our country needs you now more than ever. This is a pivotal moment in the history of our country: Our ideals are at stake, and we all have to fight for who we are. We are all, and should be treated as, equals, but the disparity in terms of income and inequality, for women and women of colour, is significant." – Kamala Harris
13. "Here's the truth people need to understand: To tackle the challenges of the twenty-first century, we must empower women and families. If we do not lift up women and families, everyone will fall short. – Kamala Harris "
14. "My mother had a saying: 'You may be the first to do many things, but make sure you're not the last.'" – Kamala Harris
15. "The American dream belongs to all of us." – Kamala Harris
If you're enjoying these quotes, make sure to read our collection of American dream quotes that will inspire you to achieve your own version of success.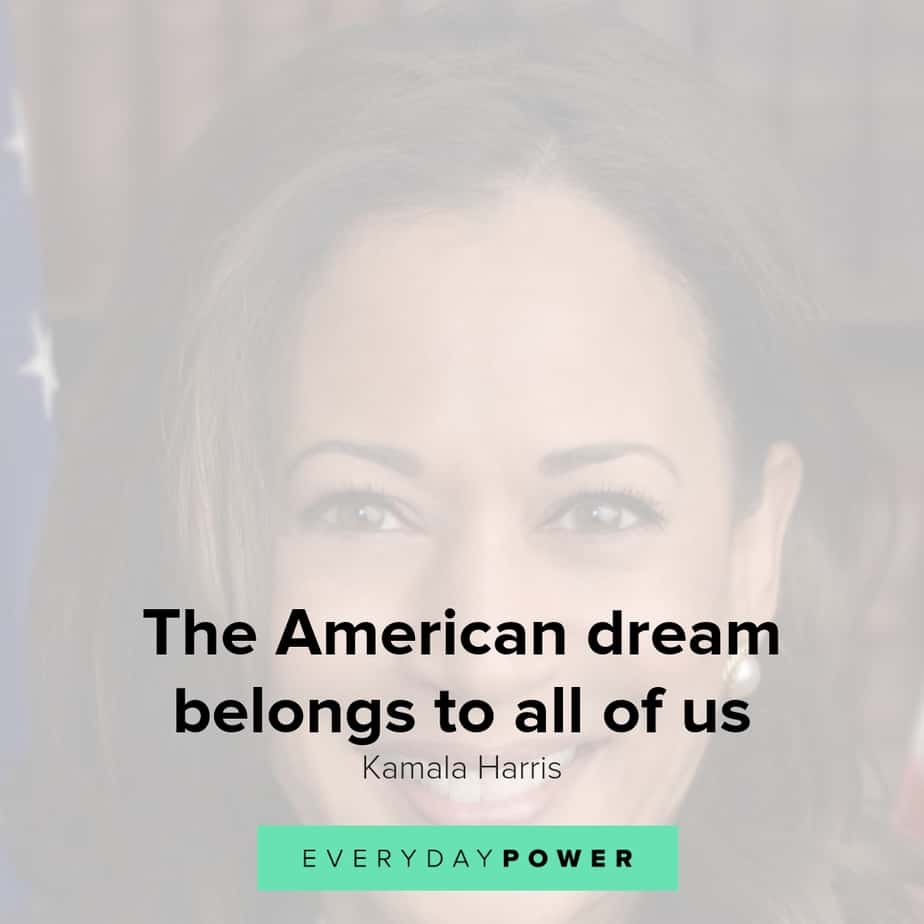 16. "Instead of giving corporations a big tax cut, let's give the middle class a real, permanent tax cut." – Kamala Harris

17. "I often advocate that we look at many sides of an issue, walk in someone else's shoes, and identify and reject false choices." – Kamala Harris
18. "I've had the good fortune and blessing to run for the offices for which I really wanted to do the work." – Kamala Harris
19. "I was raised to be an independent woman, not the victim of anything." – Kamala Harris
20. "The truth is that the vast majority of Americans are good, fair, and just, and they want their country to reflect those ideals." – Kamala Harris
You might also like these Stacey Abrams quotes from the Georgia governor hopeful.
More Kamala Harris quotes and sayings
21. "With the advent of DNA, we know that people have been convicted and sentenced to death who later proved not to be guilty of the crime." – Kamala Harris
22. "Women should not allow themselves to be caught up in the hype that says performance, meaning the motions, is what matters." – Kamala Harris
23. "We need to incorporate that age-old concept of redemption into the work that we do in the criminal justice system in California." – Kamala Harris
24. "In order to find balance, I feel very strongly about two things in particular in terms of routine. Work out, and eat well." – Kamala Harris
25. "I love being in a courtroom." – Kamala Harris
26. "I'm one of the luckiest people on Earth." – Kamala Harris
27. "You got to take care of yourself. If I exercise or I eat proper foods, am I indulging myself? That's called feeding your body." – Kamala Harris
28. "I work out every morning. Only half an hour. I get on the treadmill. That's it. Every morning, I don't care what time. It gets your blood flowing. It gets your adrenaline flowing. I believe in eating well. It's not fanatical. Eat good food. Make sure you've got good vegetables." – Kamala Harris
29. "I have loved to cook since I was a child in my mother's kitchen. If I don't have time to cook, I'll just read a cookbook." – Kamala Harris
30. "What we all want is public safety. We don't want rhetoric that's framed through ideology." – Kamala Harris
Which of these Kamala Harris quotes was your favorite?
Kamala Harris' passion, optimism, warmth, and unique perspective makes her an inspirational figure to many.
Added to her intelligence and successful professional background, Harris certainly brings a breath of fresh air to presidential politics.
Hopefully, we can all learn from her wise words above.
Did you enjoy these Kamala Harris quotes?
Which of the quotes was your favorite?
Let us know in the comment section below.